Advising Leaders on Transforming Hearing Healthcare
Auditory Insight partners with senior leaders of pharma and device companies to develop successful commercialization strategies based on deep insight into patient needs, practical understanding of clinical behaviors of audiologists and ENTs, and unique viewpoints on how hearing healthcare is evolving.
What Makes Auditory Insight Different
Unparalleled
Patient Insight
Trust-based connection with patients and advocates
Unparalleled insight into patient journey with hearing loss
Hearing
Healthcare
Expertise
Thought leadership
Extensive networks
Proprietary databases
Business, financial, and strategic modeling
Biostatistical analysis partnerships
Proprietary knowledge bases combined with thought leadership creates the highest-quality insight.

Hearing Loss Population Size and Key Segments

Adult Patient Journey with Hearing Loss

Hearing Healthcare Analogs

Comorbidities with Hearing Loss

Hearing Aid and PSAP Devices
We speed time-to-insight by leveraging our proprietary databases of people, clinicians, and companies.

Hearing Aid and Cochlear Implants Users

Advocacy Organizations, KOL Advocates, and Bloggers

Audiologists and Audiology Associations


Hearing Health Biopharmaceutical Companies
We create breakthrough engagement strategies and models of care by tapping the perspective of stakeholders throughout hearing loss ecosystem.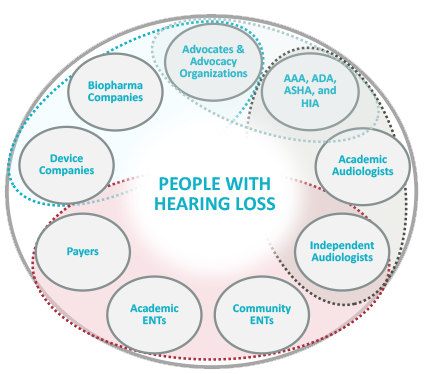 Our Promise
Commitment to innovative, actionable, patient-focused, and insight-driven marketing strategies to help clients drive growth in patient adoption.
Subscribe for Updates from Auditory Insight
Receive updates on our latest thinking on successful commercialization strategies in hearing healthcare. Sign up for Auditory Insight's newsletter.